Soil Stabilization & Improving Soil Strength For Cranberry Township Development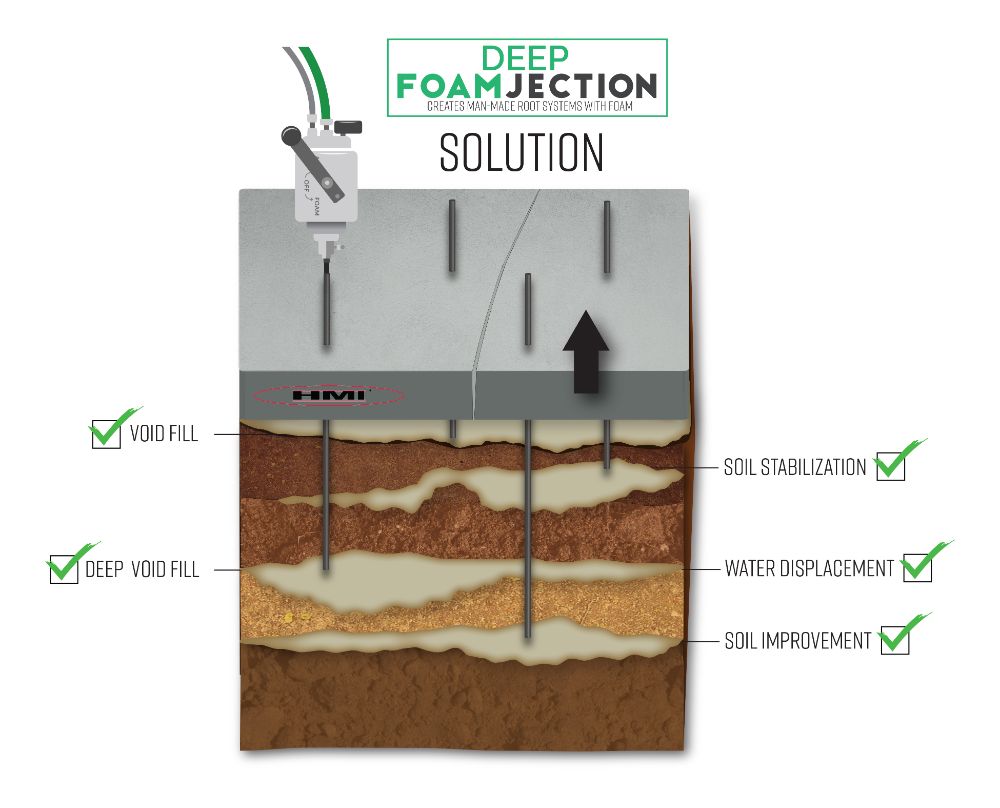 Get your soil primed and ready for construction with the top-of-the-line soil stabilization service offered by the experts here at 3 Rivers Concrete Lifting LLC. By using a mix of chemicals and cement to modify and strengthen the natural properties of your soil, we create a strong and healthy base that's ready to take on the next phase of your new build. After all, we're the most reliable concrete contractor for Cranberry Township properties, so give us a call today to get started on your next project!
Looking for another one of our high-quality stabilization services? If your sea wall is experiencing issues with cracking, leaking, or erosion, we can help bring it right back up to speed with our professional sea wall stabilization service!
Improving Soil Strength
If you're at the point in the construction process where you're finally ready to prime the area for a new build, then you've probably been looking into professional soil stabilization. It's incredibly important to ensure that the area you're working with can withstand a new structure, be it a new home, building, or roadway. Take a look at the list below to see how our service can help, and for any additional inquiries, give us a call or fill out our online service request form today!
Our professional soil stabilization service helps in a number of ways, including:
Improving the tensile strength of your soil
Increasing weight-bearing capacity
Reducing permeability to lock out moisture
Preventing and mitigating damage
What Happens To My Property If My Soil Isn't Properly Stabilized?
Without proper soil stabilization, your Cranberry Township property will be subject to a number of issues that can be very difficult and expensive to deal with down the road. When the soil beneath your roadway or structure isn't properly stabilized prior to construction, this can lead to issues such as sinking, shifting, and the need to repair or rebuild much sooner than originally expected. If you want your structure to stay standing strong for many years to come, this service is necessary for success.
So why does this happen, and why is soil stabilization so important? First things first, the soil shrinks when dry and expands when wet, and certain types of soil inflate and contract much more than others. This process is natural, but it puts any structures built on the surface of the soil at risk. Soil stabilization modifies soil by changing its physical properties to prevent and lessen the extent of any damage caused by this cycle.
What Is Deep Foamjection™?
Deep Foamjection™ is considered to be an upgrade to standard concrete raising. Deep Foamjection™ is the process of installing foam deeper to increase the load bearing capacity of the soils.
Repair unstable soils in addition to adjusting slabs back into place
Installing a stronger foundation to support slabs and structures that settled
Foam follows the path of least resistance and will fill weak areas
Fills fissures and ground voids
Fills voids holding water. Displaces collected water
Increase load bearing capacity of subgrade
Permanent repair. Foam never changes shape or absorbs ground water
Foam expands into the weak soils binding the soil and making it solid
Does not leach chemicals into the ground
Strong enough to support slabs, but still allow large roots to penetrate
Minimal downtime
No heavy equipment or excavation required - non evasive
Where can concrete be stabilized?
Residential
commercial
Highways
Settle Slabs
Settled Structures
Railroads
Grain Bins
Airports
Warehouses
---
Recent Soil Stabilization Lifting Articles
Professional Soil Stabilization: Why It's Necessary

The construction process can be arduous, and there are many necessary steps from the moment you sit down with an idea to the moment the new build is ready to be unveiled. Cutting corners in any capac […]
Don't Hesitate,

Call Today for Your Concrete Leveling & Void Filling in Cranberry Township!