Pittsburgh's Go-To For Dependable Concrete Contractor Services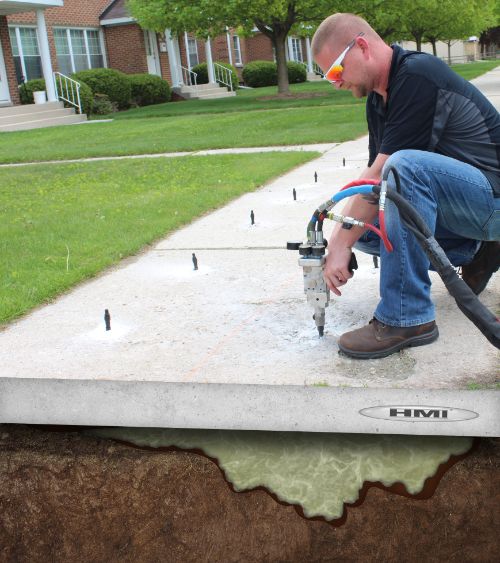 Don't choose just any professional concrete contractor for your Pittsburgh home or business—choose the highly skilled and experienced experts here at 3 Rivers Concrete Lifting LLC! We're the leading source in Pittsburgh for top-of-the-line concrete lifting, void filling, and stabilization services, and you'll save time, money, and overall hassle when you let us take on the workload for you. If you're looking for a concrete contractor that cares just as much about the customer experience as providing amazing results, then you've come to exactly the right place!
In Need Of A Reliable Concrete Contractor For Your Pittsburgh Area Property? 3 Rivers Concrete Lifting LLC Is Just One Call Away!
Are you in need of expert soil stabilization to prep your lot for new construction? Is your sea wall quickly deteriorating and causing issues like leaking or sinkholes? Or maybe your residential driveway is sloping when it shouldn't be? The experts here at 3 Rivers Concrete Lifting LLC can help! Our fantastic line of services is tailored to assist property owners with all of these issues and more, and our work is backed by fifteen years of skill and experience.
Pittsburgh property owners can depend on 3 Rivers Concrete Lifting LLC for the following top of the line lifting, leveling, and stabilization services:
Concrete lifting and leveling
Seawall stabilization
Soil stabilization
We're not limited to properties in Pittsburgh! Here's our current complete service area:
Butler
Cranberry
Gibsonia
Mars
McCandless
Pittsburgh
Sarver
Saxonburg
Wexford
Does Your Professional Concrete Leveling Surface Work For Both Residential And Commercial Properties In Pittsburgh?
Our high-quality professional concrete lifting and leveling service work for residential, commercial, and even municipal properties in Pittsburgh and beyond. If you're wondering how our service works, we'd be glad to explain. After assessing the area, we drill nearly invisible holes into your concrete, about ⅝ of an inch in size, and then proceed to lift it using an eco-friendly polyurethane foam made from recycled materials. The foam we use is lightweight and non-hazardous, at about 2 pounds per cubic foot, making it the preferred choice in most cases to traditional mudjacking.
Want to know more about how our concrete contractor services can assist you with your Pittsburgh property? Here are the types of structures and surfaces 3 Rivers Concrete Lifting LLC can work with:
Residential: pool decks, basement floors, garage floors, driveways, patios, porches, and sidewalks
Commercial: apartment complexes and factory floors
Municipal: sidewalks, gutters and curbs, bridge approaches, streets, and roads
Reviews & Testimonials on 3 Rivers Concrete Lifting LLC in Pittsburgh, PA
There are currently no reviews or testimonials, check back soon!
Don't Hesitate,

Call Today for Your Concrete Leveling & Void Filling in Cranberry Township!