Seawall, Breakwall, and Bulkhead Stabilization Repair Specialists Serving The Eastern Ohio Area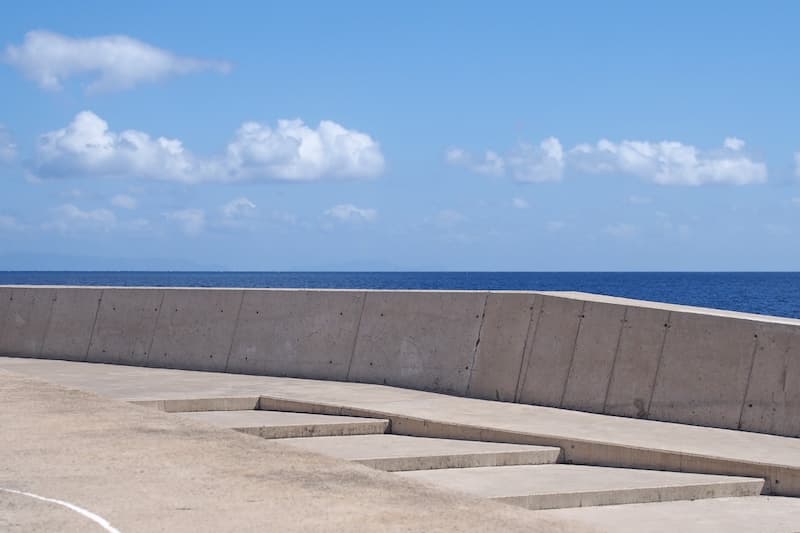 For the highest quality professional sea wall stabilization service in Cranberry Township and the surrounding areas, look no further than the experts here at 3 Rivers Concrete Lifting LLC. Our sole mission is to provide amazing results paired with outstanding customer service to give each and every one of our clients a fantastic, hassle-free experience from beginning to end. We treat every property we work on with the utmost respect, and that's why we're the number one concrete contractor for Cranberry Township homes and businesses. If you'd like to work with us, give us a call or fill out our online service request form today!
Seawall Repair Pros
Seawalls perform an important function, so keeping them well-maintained with our sea wall stabilization service is the number one way to prevent premature failure of the structure itself. Prompt treatment of any sea wall with erosion issues is imperative for keeping the area around it safe from harm, and stabilizing the structure with polyurethane foam is the quickest and most effective method compared to total excavation or using cement grout. Whether you're dealing with cracking, leaking, or even sinkholes, our highly skilled team will restore your sea wall back to perfect working order.
Is your home, business, or municipality in need of another one of our stabilization services? We also offer top-quality soil stabilization to improve the weight-bearing capacity and tensile strength of your soil!
Sea Wall Erosion And How Our Professional Stabilization Service Can Help
If your sea wall is experiencing issues, the likely cause is erosion or deterioration due to the very nature of their job—protecting roadways and structures from flooding and other water damage. When your sea wall is left untreated, this damage can lead to further issues such as cracking, leaking, and the development of gaps and voids that need to be filled. Seawalls are an incredibly important structure for keeping the area around the shore safe, and professional sea wall stabilization is the key to ensuring that it stays standing strong for many more years to come.
So how does sea wall stabilization benefit your Cranberry Township property? Instead of completely excavating the area for total replacement, this service stabilizes the existing structure with a far less time-consuming and invasive process. We'll reinforce your sea walls with eco-friendly polyurethane, helping to seal cracks, fill voids, keep out moisture, and stabilize surrounding soil with a quick turnaround time.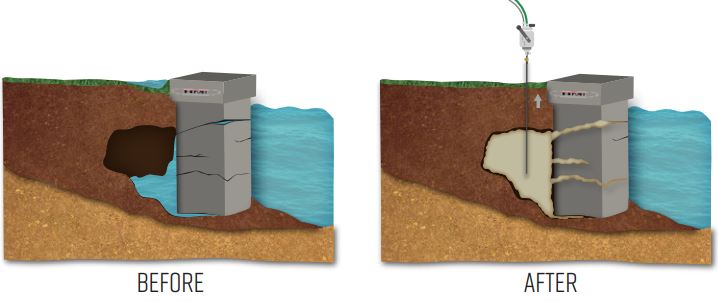 With every wave, soil washes away and water gets through cracks and gaps in the wall. As cracks and voids form, the wall joints can begin failing. Structural damage may be occurring and a solid foundation will be in jeopardy. You can repair seawall with foam, fill voids, stabilize loose soil and seal leaks at a fraction of the cost of replacement. Repairing seawalls with HydroFOAM versus grout or cement doesn't add weight to a soft soil and the repair will last longer
Symptoms of structural damage:
Surrounding ground is mushy or caving in
Water is present where it shouldn't be
Visible voids and trip hazards
Bigger consequences can include foundation issues which will be more expensive to fix
A foam created specifically for applications where water may be present around a concrete slab and/or underneath. HydroFOAM holds up where other brands fail
Repair Seawalls with HydroFOAM
HMI HydroFOAM is:
Permanent
Will not break down in water
Will not shrink in water
HydroFOAM was specially developed to resist hydrolysis a chemical process in which water breaks down foam overtime causing the foam to shrink. Designed to not only set up in the presence of water, but to maintain dimensional stability. HydroFOAM will plug small holes where water intrusion is present.
Don't Hesitate,

Call Today for Your Concrete Leveling & Void Filling in Cranberry Township!