Finding a Dependable Concrete Contractor for Concrete Lifting in Youngstown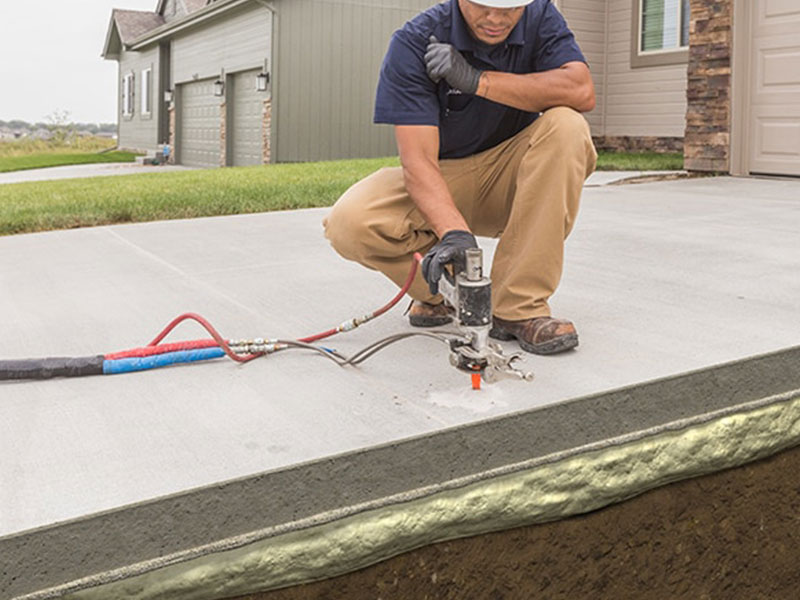 When it comes to ensuring the longevity and safety of your concrete surfaces in Youngstown, finding a dependable concrete contractor for concrete lifting & leveling is of paramount importance. The Ohio weather can take its toll on concrete, leading to issues such as sinking or uneven surfaces, which not only diminish the aesthetics but also pose potential hazards. To address these concerns, it's crucial to partner with a trusted local contractor who specializes in concrete lifting and leveling services. By choosing 3 Rivers Concrete Lifting LLC, a reputable leader in the concrete industry, you can rest assured that your concrete surfaces will be expertly repaired and restored to their original condition.
At 3 Rivers Concrete Lifting LLC, we understand the unique challenges that Youngstown residents face with their concrete structures. With years of experience and a team of skilled professionals, we offer top-tier concrete lifting services using state-of-the-art techniques. Our commitment to quality, precision, and customer satisfaction sets us apart as the go-to choice for concrete lifting in Youngstown. Whether you have a residential driveway, a commercial parking lot, or any other concrete surface in need of leveling and repair, you can trust 3 Rivers Concrete Lifting LLC to provide dependable solutions that stand the test of time. Don't settle for uneven or sunken concrete – choose 3 Rivers Concrete Lifting LLC for reliable concrete lifting services in Youngstown.
Why 3 Rivers Concrete Lifting LLC Is the Best Choice for a Concrete Contractor in Youngstown
3 Rivers Concrete Lifting LLC stands out as the premier choice for a concrete contractor in Youngstown for several compelling reasons. Our unwavering commitment to excellence is at the core of our operations, ensuring that every project we undertake receives the highest level of craftsmanship and attention to detail. With years of experience serving the Youngstown community, we have established a reputation for reliability, trustworthiness, and superior results.
What truly sets 3 Rivers Concrete Lifting LLC apart is our dedicated team of experts who possess a deep understanding of the local climate and soil conditions, allowing us to tailor our concrete services to meet the specific needs of Youngstown residents. We employ cutting-edge techniques and state-of-the-art equipment to deliver precise and long-lasting results, whether it's concrete lifting, repair, or new installations. Moreover, our unwavering commitment to customer satisfaction ensures that your project will be completed on time and within budget, leaving you with a concrete surface that not only looks impressive but also stands the test of time. When you choose 3 Rivers Concrete Lifting LLC as your concrete contractor in Youngstown, you're choosing the best in the business, dedicated to transforming your concrete surfaces into durable and aesthetically pleasing assets for years to come.
When to Consider Concrete Leveling Services in Youngstown
Uneven or sunken concrete surfaces can pose safety hazards and detract from the aesthetics of your property. In Youngstown, where weather conditions can exacerbate these issues, it's essential to know when to seek professional concrete leveling services. Here are some common scenarios:
Uneven Driveways: If your driveway has developed uneven sections due to soil settlement or other factors, concrete leveling can restore a smooth and safe surface.
Sidewalk Hazards: Uneven sidewalks can be a tripping hazard for pedestrians, making concrete leveling necessary to maintain safety in public areas.
Patio or Pool Deck Issues: Sunken or uneven patios and pool decks can affect your outdoor enjoyment. Leveling ensures a more comfortable and visually appealing outdoor space.
Garage Floor Problems: A sunken garage floor can lead to water pooling, making it essential to address these issues to prevent damage.
Commercial Spaces: Businesses in Youngstown should consider concrete leveling to maintain a safe and inviting environment for customers and employees alike.
In these situations, seeking the expertise of a professional concrete leveling service like 3 Rivers Concrete Lifting LLC is crucial to ensure your concrete surfaces are restored to their original condition, enhancing both safety and curb appeal.
There are currently no reviews or testimonials; check back soon!
Don't Hesitate,

Call Today for Your Concrete Leveling & Void Filling in Cranberry Township!