About 3 Rivers Concrete Lifting - Your Trusted Cranberry Township Concrete Company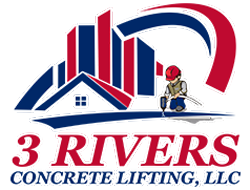 3 Rivers Concrete Lifting LLC is the only Cranberry Township concrete company you need to fulfill all of your concrete lifting, stabilization, and void filling needs. Whether your concrete driveway has potentially dangerous dips that need immediate attention or you need your sea wall stabilized to prevent unnecessary deterioration, our reliable concrete contractors are highly skilled and armed with over fifteen years of experience in the industry. We're the number one concrete contractor in Cranberry Township and beyond, so feel free to reach out and give us a call today to schedule your consultation and get right down to business!
Interested in hiring 3 Rivers Concrete Lifting LLC for high-quality concrete lifting and leveling? Here's where you can find us:
Butler
Cranberry
Gibsonia
Mars
McCandless
Pittsburgh
Sarver
Saxonburg
Wexford
Who We Are, What We Do, And How Our Services Can Benefit Your Cranberry Township Home
David Taylor founded 3 Rivers Concrete Lifting LLC in 2022 with the sole aim of creating a professional concrete company that can do high-quality work at an affordable price. Our top of the line services help keep both residential and commercial properties safe, healthy, and well-maintained, ensuring that your home or business lasts you a lifetime. We work with a number of different surfaces such as sidewalks, factory floors, and even municipal roads, and we're sure to have the perfect solution for your and your property's individual needs.
If you're looking for a professional concrete company to perform any of the following services for your Cranberry Township home or business, 3 Rivers Concrete Lifting LLC has got you covered!Our complete line of services includes:
Concrete lifting and leveling
Seawall stabilization
Soil stabilization
Don't Replace Your Concrete, Lift It!
Professional concrete lifting and leveling are more often than not the better choice for your concrete versus total replacement, and our team of experts will help you make the best decision for your property after assessing your needs. Our lifting and leveling service is quick and far more cost-effective in the long run, and it will help restore your concrete surfaces back to peak performance. We're a concrete company that truly cares about each and every one of our customers and clients, and we always go above and beyond when it comes to performing our services.
After all, our mission statement is simple—to provide top-quality workmanship and customer service while maintaining the highest level of professionalism and integrity!
Don't Hesitate,

Call Today for Your Concrete Leveling & Void Filling in Cranberry Township!